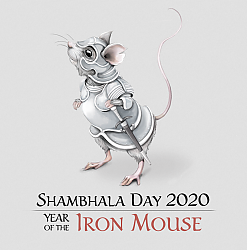 Shambhala Day at Tamalpais Shambhala
Shambhala Day Celebration
Shambhala Day -
You are all heartfully invited to come join in the Preparation and Celebration of our 2020 Lunar New Year here at Tamalpais Shambhala. on Sunday, March 1, beginning at 10:00 a.m.
Although we at Tamalpais will not be joining in the broadcast in real time, we will see the recording which will include group practice and greetings from throughout our worldwide community. Additionally, we will welcome new members, have our brief Shambhala Annual Fundraiser and a Festive Potluck Feast, so please bring a small dish to share.
Cleaning Day -
Each year, on the day before Shambhala Day, Saturday, Feb. 29, we will gather to clean and uplift our center, from top to bottom.
Cleaning will start at 10:00 a.m. So you are invited to grab your cleaning gloves and join in the fun. "Many hands make light work."
This is our time to help purify karma of the previous year so that we can take a fresh start for the New Year. We will be providing lively music to keep us dancing with the dust cloths and vacuum. We will order pizza to be delivered for lunch. You are welcome to come for only a portion of the time if that works better for you.
Tamalpais Shambhala Day Weekend Schedule in brief:
* Cleaning day: Saturday, Feb 29, 10:00 until 1:00
* Shambhala day: Sunday, March 1, 10:00 until 2:00
Very much looking forward to celebrating with you all,