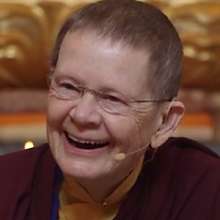 Pema Chodron Program: Turn Your World Around
with Pema Chödron
Pema Chodron program: Turn Your World Around
8 Thursdays 7 p.m. to 9 p.m.
January 14 through March 7
Facilitated by Basha Hirschfeld and Elizabeth Sheppard
• The Class is Full •
To discuss your situation with Basha, who is leading this class, you may send her an email at [email protected]
What if the source of our greatest pain was also the source of our greatest possibility? What if instead of running from our challenging emotions, we could develop tools to engage with them? It's not about getting rid of emotions, it's about coming to know them well. Having the courage to work with the feelings we'd rather avoid can be a path to personal transformation and positive change in the world.

There has never been a timelier offering from beloved bestselling author Pema Chödrön than these teachings on working with our challenging emotions, known in Buddhism as the kleshas. In this all-new pre-recorded online retreat, Pema introduces the intense emotions at the heart of our suffering: craving, aggression, ignorance, pride, and jealousy. She gives us three powerful steps for working with them: refrain, reframe, and relax.

In a time of intense change and uncertainty, we are all experiencing strong emotions. There is no easy fix—but learning how to work with your own mind and the challenging emotions you experience is essential to staying calm in the midst of the storm, allowing you to better care for yourself and others.
Facilitator Bios
Basha Hirschfeld has been involved in Shambhala since 2001 when she attended a weekend retreat with Pema Chodron and Jesse Miller. She was coordinator of Shambhala Training for Sonoma and Santa Rosa Shambhala Centers. She also helped start the Santa Rosa Shambhala Center and then served as Director until 2012. Since then, she opened a retreat center on her land in Sebastopol, Open Sky Retreat Space, where she has hosted many different groups doing workshops and retreats in a peaceful country setting.
Elizabeth Sheppard has been involved with the Tamalpais Shambhala Meditation Group for many years and serves as the Center's Treasurer. She has participated in large events with Pema Chodron at the Craneway Pavillon and, recently, attended the Yarne Retreat at Gampo Abbey which is the basis for this course. In the past, she has co-facilitated several Pema Chodron classes at Tamalpais. She eagerly embraces the teachings of Pema Chodron as a way to make friends with oneself and be of service to others.