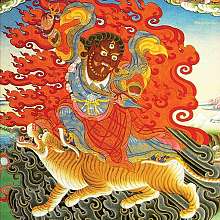 Crazy Wisdom Book Study with Jesse Miller
with Jesse Miller
Crazy Wisdom Book Study with Jesse Miller
Nine Thursday evening classes
April 15 through June 10 from 7 to 8:30 PM
Crazy wisdom is described by Chogyam Trungpa as an innocent state of mind that has the quality of early morning—fresh, sparkling, and completely awake. From this profound point of view, spiritual practice does not provide comfortable answers to pain or confusion. On the contrary, painful emotions can be appreciated as a challenging opportunity for new discovery and meditation as a practical way to uncover one's own innate wisdom in the midst of everyday life.
Please join us for a collaborative book study of Crazy Wisdom, a collection of Chogyam Trungpa's early teachings from two seminars given in December of 1972. We will take our time.
Registration
Please register at least one day in advance. This will guarantee that you will be emailed the Zoom link to the first class.
Cost
Program Price: $180
Patron Price: $220
Or pay what you can afford, nobody will be turned away for lack of funds.
Questions?
Contact Karen Walls: [email protected]