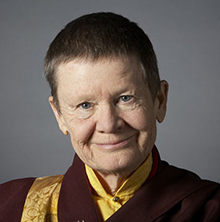 Pema Night - Third Tuesday of the Month
Switching to Zoom while Home-Stay is in place.
Contact Karen at [email protected]
Our regular Tuesday Open House enjoys a special feature on the third Tuesday of the month, we offer Pema Night!
Please join us as we show Pema Chödrön videos on our large screen TV or read from one of her books. Discussion and light refreshments follow at 8:30 if you choose to stay.
7:00 p.m. to 8:30
$5 - $10 donation is appreciated but not required.